Upcycling tips to transform your garden
As individual households, we create a lot of waste every year but not all of it needs to end up in a landfill or a recycling plant. With summer on the horizon and plenty of sunny weekends to spend outdoors, many of us will be thinking about planting a few flowers or adding a few homely touches to our gardens. Why not upcycle some old waste for cheap and attractive garden equipment? From unusual flower pots to pretty glass lanterns, here are a few ways that we can reuse unwanted items in an effective, easy and original way:
Wellington Boots Plant Pots:
Many homes, especially in the countryside, will have a few unwanted pairs of wellies cluttering up the hallway. Instead of throwing them in the bin, why not turn them into handy plant pots? Just fill them with compost soil, seeds and a splash of water. For further irrigation, you might want to poke holes in the sole using an electric screw driver and you can even colour coordinate them to your gardens décor using a latex spray paint that will withstand outdoor conditions.

Utensil Hangers
Been meaning to replace that set of old cutlery or perhaps you've got a few old spades lying around in the shed? Give your old metal ware a new lease of life and put them to good use by creating some handy hangers. Simple bend your old spoons, forks or knives in half and fix them to the wall for strong hooks that are perfect for hanging up garden utensils. Use larger spades to create strong hooks for placing hanging baskets on.

Glass Jar Lanterns
Glass jars are a permanent fixture in most people's recycling bins and they also happen to be a great item to upcycle into decorative lanterns. Simply wash them out, remove any labels and place a tea light inside for an amazing lighting solution for those long summer evenings spent outside. Great for scattering around the garden, these recycled homemade lanterns can also be painted using acrylic enamel paint to give off colourful light and are great to use indoors too!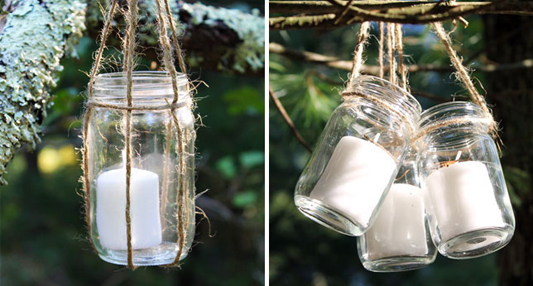 Pallet Furniture
Wooden pallets used for stacking and transporting items are often found in the waste at small business or your local supermarket. Pick up a few of them for free or at little cost and turn them into some stylish garden furniture that's ideal for summer BBQs. Create an armchair or a corner suite with matching table by nailing some pallets together and adding some bright coloured cushions for comfort. For more stylish upcycling, try painting or varnishing the pallets before you assemble them.
Football Hanging Baskets
Most gardens have an old deflated football or two that have been abandoned in the flowerbed for several months. Why not fish them out and turn them into something useful like a hanging basket? Cut one in half using a strong pair of scissors, attach some rope to either end and fill with soil and seeds. You can even paint or decorate the outsides to blend in with your garden or use one as a unique bird feeder.